Back to archives
Ferney Nature Lodge: A Haven for Adventure and Relaxation in Mauritius
Whether you're an adventurer at heart or seeking a quiet getaway, Mauritius will certainly offer an indulgent experience to suit your taste. And if you want it all – relaxation, thrills, luxury, and fine dining, then you should definitely put Ferney Nature Lodge on your bucket list. This destination will leave you in awe! So, get on board and start daydreaming about your next vacation amidst nature in this tropical paradise.
Mauritius, the perfect island for holidays in the sun
Life is better where the sun shines brighter! If you're in doubt, look no further than Mauritius Island, a radiant jewel in the heart of the Indian Ocean, brimming with abundant joys and endless wonders.  With its breathtaking landscapes, vibrant melting pot of cultures, and warm hospitality, you will have no other choice but fall in love. We can't stress this enough: Mauritius is not just about turquoise lagoons and sandy beaches, although soaking up the sun every day is quite tempting. We know that some of you yearn for a unique experience, one that takes you off the beaten path and allows you to reconnect with the pure essence of nature.  This is exactly what Ferney Nature Lodge offers: the opportunity to experience the island like never before, with an array of activities to start or end your stay on a delightful note.
Sweet escape to luxury? Here's to the lodges!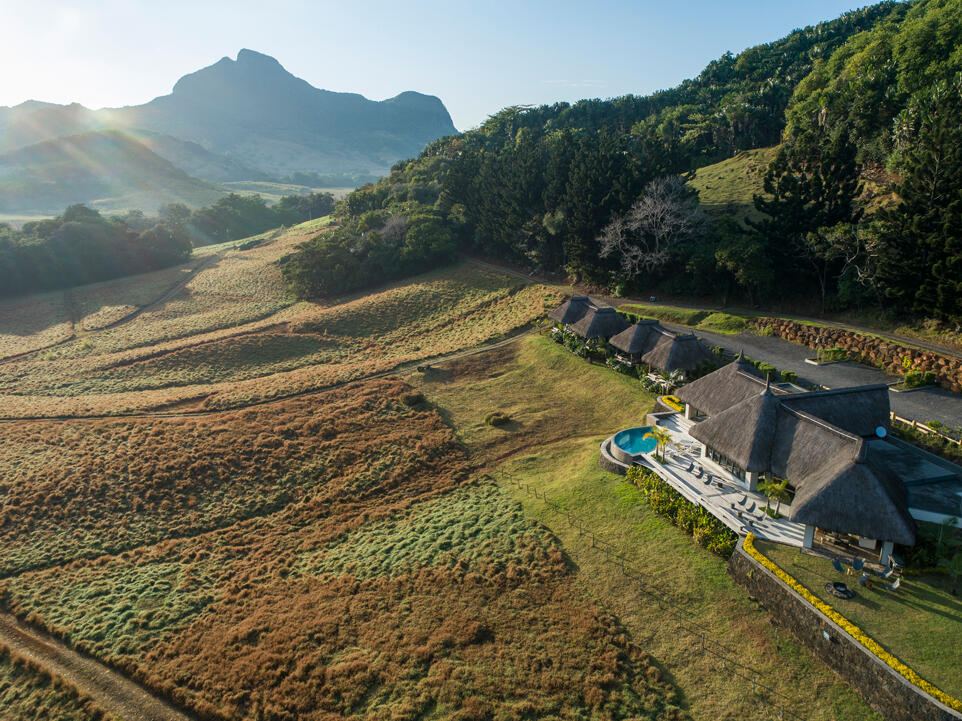 When it comes to vacations, many of us think of tranquillity and serenity. And what could be better than a romantic or family escape in the heart of nature at Ferney? Over the past few years, lodges have emerged as an attractive option for travellers staying in Mauritius. They find all the comfort and privacy they need in this type of upscale accommodation surrounded by nature. As an alternative to traditional beach hotels, they are a must-see for eco-conscious travellers. Often built with sustainable materials, lodges blend seamlessly into their natural surroundings, creating a warm and authentic atmosphere. And to top it off, these peace havens offer a myriad of activities for the adventurous souls, as well as gourmet restaurants and spas for those dreaming of la dolce vita. Simple luxury at its best! Ferney Nature Lodge, with only four double rooms, is an excellent choice for those seeking this much-desired peaceful and exclusive stay in the South of Mauritius.
Discover Ferney Nature Lodge and its signature experiences
Nestled among rolling hills and lush greenery, Ferney Nature Lodge exudes an earthly paradise-like aura. Here, the urban noise and the everyday worries are nothing but distant memories. With its many indigenous plants, different species of birds, deer and hares, you'll most likely make beautiful encounters while taking in the beauty of La Vallée de Ferney.
Explore, indulge, and love life, thanks to the signature experiences of Ferney Nature Lodge. Embark on a sensory adventure and immerse yourself in lush nature (on foot or by bike, it's up to you), enjoy a delicious culinary journey while tasting typical Mauritian flavours, as well as an exclusive butler service to cater to your every whim… all this in a magical setting, with breathtaking views of the turquoise lagoon and surrounding mountains. What else could you possibly ask for?
Explore the Mauritian wilderness at La Vallée de Ferney
There are countless ways to explore the green heart of La Vallée de Ferney, whether you're an avid hiker or a thrill-seeking off-road enthusiast. The perfect adventure awaits – all you have to do is find it!
Let the tropical adventure begin!
Guided tour of Ferney Conservation Park
More than just a hike, this guided tour will allow you to discover the rich biodiversity of Mauritius all in one place. You won't be disappointed! Ferney Conservation Park is a real preserved gem, being among the last remaining endemic forests on the island.
SUV trip around the valley
Get ready for an unforgettable offroad adventure on board an SUV (4×4)! It can fit up to nine people (as the saying goes, the more, the merrier), and will take you to discover the deer, wild boars, and native trees… We won't give away all the surprises, but rest assured that La Vallée de Ferney has some beautiful secrets waiting for you to be revealed.
Self-guided walks in

La Vallée de Ferney
Whether it is with your significant other or with your family, there is something truly enjoyable about taking a leisurely stroll through new surroundings. And the best part? This activity is included in your stay package at Ferney Nature Lodge! Of course, be mindful as to bring along mosquito repellent, a hat or a cap, and sunscreen to avoid any potential discomfort during your hike.
Embrace the South of Mauritius and its serenity
For those who prefer more peaceful & relaxing activities, we have you covered. La Vallée de Ferney, a true wellness haven in the South of Mauritius, exudes the same tranquility that has earned the region its renowned reputation.
 Top relaxation activities
at Ferney Nature Lodge
Start your day on the right foot! Feel the early morning sun on your skin, stretch and relax your muscles as you adopt the different yoga postures… 
A range of relaxing massages
It's a lazy day? You will be happy to learn that you don't even need to leave the comfort and privacy of your room in order to enjoy this service. Provided by our team of spa professionals, these massages allow for an optimal wellness experience from the lodges.
Watching a beautiful sunset
Imagine the valley tinged with a golden glow as the day comes to an end, revealing the immensity of nature to you. A gorgeous sun which meets the mountains… You have to see it in real life to capture all the beauty of the moment.
Book your stay at Ferney Nature Lodge
Better be an early bird than risk being disappointed by a possible unavailability of rooms! So, here's a little advice: book your stay at Ferney Nature Lodge now! You can also enjoy a free guided tour in the Conservation Area of La Vallée de Ferney for stays of minimum 3 nights. 
Book your stay!