Back to archives
The South East of Mauritius: between nature, history and gastronomy
Wondering what to do in the pristine South East of Mauritius? This region is full of spots to discover. From a historical heritage site to the abundant biodiversity in the Ferney nature and wildlife reserve, with a breath-taking restaurant for gourmets and market for the foodies, ending the day at one of the most coveted lagoons of the island. We welcome you to this region of unrivalled authenticity. Discover in this article the best itinerary to spend a day in the South-East of Mauritius.
Whether you opt for a road trip or wish to take your time to savour each of these indulgent experiences, we invite you to take a delightful itinerary, from Vieux Grand Port to Blue Bay. Make sure to pack your sunscreen and shades for this sun and fun-filled ride, and, most importantly, bring your camera along to capture these timeless moments.
Follow the dodo
Your adventure starts in Vieux Grand Port, at the Frederick Hendrick Museum. The museum was built on a national heritage site, home to ruins of two pivotal eras of Mauritian History. Above ground, structures were built by the French. They stand on the very ruins of the Dutch Fort Frederick Hendrick. Part of the Dutch ruins were excavated in 2000 and can now be viewed by the public.
The history of Dutch Fort Frederick Hendrick is quite tumultuous. It was built by Simonsz Gooyer, the first Dutch Governor of Mauritius in 1638 and named Fort Frederick Hendrick as a tribute to the Brother of the Prince of Orange, Maurice Van Nassau. Although important damages were caused by cyclones, the fort stood strong, until a fire burnt the compound in 1695.
The former settlement was converted, in 1805, into a military post by the French. Little did they know then, that they would be called upon to defend their stronghold in Vieux Grand Port only five years later, during the battle of Grand Port, as part of the Napoleonic wars. In fact, the battle took place in that very region, and the cannons can still be seen along the scenic route, as a testament of this famous naval battle.
Explore a wildlife sanctuary
in Ferney

Nestled in the Bambou mountain range, La Vallée de Ferney awaits. This nature and wildlife sanctuary is home to 200 acres of native Mauritian forest, a rich and diverse ecosystem of endemic plants and birds. Pink Pigeons and Echo Parakeets thrive, as they fly from Takamaka tree to Bois Clou. You may spot a few of them if you stop on the tracks to listen to rustling leaves.
Take to the hiking trails …
The hiking trails of the Ferney Nature Reserve welcome both hikers and bikers (bicycles), with their water supply, sunscreen, and change of clothes close at hand, as the call of adventure beckons. Hikers of any level will find breath-taking views and exciting challenges thanks to the three different routes they can take:
5km- picturesque stroll (amateur-beginner)
This 1-1.5h stroll will take you on the open trail with the lush landscapes of Ferney before you. Be sure to bring a hat to top off your sun protection, as this track is the most exposed to sunlight.
13km- breath-taking hike (intermediate-experienced)
This 3.5-4h invigorating walk requires some physical preparation, as it takes you further up the winding paths of the reserve, to uncover its hidden treasures.
18km- dominant views trail (experienced hikers)
This 5-6h route is not for the faint of heart. A good physical condition is needed for this technical track which will reward the brave and athletic with the best views the reserve can offer, enhanced by a tremendous endorphin boost from the walk.
Learn more about the hiking trails
Or book a guided tour
of La Vallée de Ferney
Looking for a more biophilic experience? Nature, botany and wildlife lovers will certainly enjoy a guided tour of the reserve. You may choose to tour the premises on foot with passionate guides who will teach you all you need to know about the endemic fauna and flora of this lush reserve of Ferney. Adventurers may also choose the 4X4 guided tour, which will take them into the depths of the reserve, where the big game such as deer and boar dwells.
Culinary Experiences
in the South-East
Hungry? You may just be, after such activities. Luckily, the region offers sweet and savoury delights from land to sea. From gamy meats to fresh seafood, irresistible fritters to traditional stews, you will find a dish to please every palate according to their preferences.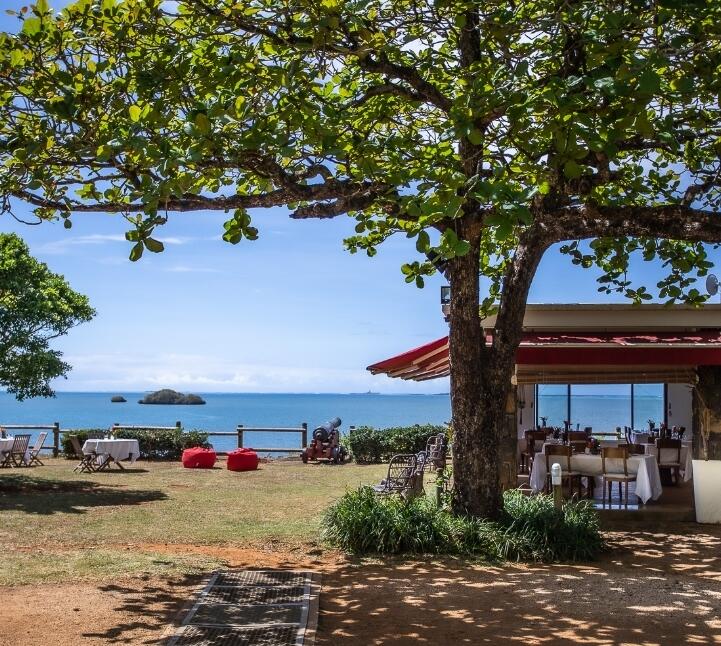 Ferney Falaise Rouge
Restaurant
, a gourmet's delight
Located at the edge of La Vallée de Ferney, Falaise Rouge is perched on a cliff overlooking the ocean. The menu of this beautiful restaurant is particularly well-rounded. From classic light bites such as salads, burgers and wraps, to traditional Mauritian curries and "salmi", to signature dishes, the farm-to-table concept uses only the freshest and most iconic ingredients of the region to dazzle your tastebuds.
Mahebourg market, a spot of local snacks
Let your journey take you further South, to Mahebourg. This traditional fishing village stands at the crossroads of the past and the present, of tradition and modernity. The slow-paced atmosphere and quaint landscape inspired many artists to sing, write and paint its undying beauty. The heart of the village is its market, where you will catch a glimpse of colourful vegetables, before being enticed by appetising smells. In the food court, Mauritian specialties abound. Golden fritters, fluffy "dholl puris", spicy rotis and tangy "confits" (spicy pickled fruit) will certainly make your day!
Blue Bay
beach
and the Marine Park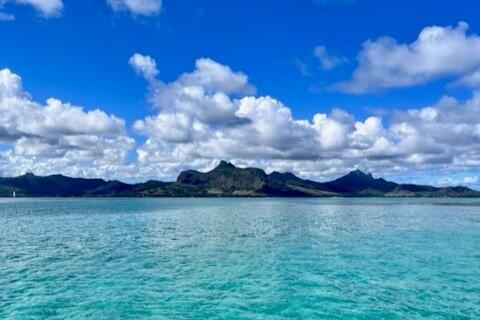 This National Park, designated a wetland site under the Ramsar Convention in 2008, is a sanctuary for marine biodiversity. It may just be the oldest part of the history of Mauritius, as it is home to over 100 species of fauna and flora, and its main attraction is a 1000-year-old brain coral.
Many visitors opt for a tour in a glass bottom boat to discover the rich marine life of the coral reefs, although the best way to discover the vibrant coral garden is simply by snorkelling, to get even closer to these natural marvels.
From history, to food, to terrestrial and marine biodiversity, the South East is undoubtedly packed with part and parcel of our Mauritian heritage. The diverse range of activities available are an invitation to explore and experience part of this heritage for yourself, as the unforgettable memories of these moments live within you.